Your perfect cocktail, at a wedding, served from the back of a Land Rover Defender… when we heard about this wedding idea, we had to check it out.
Reviving the glamour of the rip-roaring 20s is The 43 Club, a bespoke cocktail service that offers a unique experience for your Big Day.
And one of those services it offers is 'The Baron', a fully functioning bar built into a Land Rover Defender.
If you heard about a barman who bought a dilapidated Land Rover and planned to convert it into a wonderful cocktail bar just for themselves, then you would be forgiven for thinking he'd probably already been at the bottle.
However, this is exactly what they've done, and the Land Rover now offers a bespoke mobile cocktail service complete with lighting, sound and a stocked bar – making it an entertaining focal point and booze box on wheels in one!
If your wedding is in the middle of a field, on a beach, a (very large) back garden or even a car park, this is the bar you'll want to have. We think the idea is fabulous.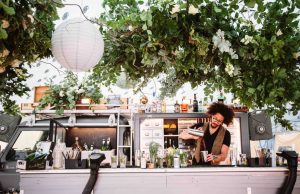 Decadent, slick and experts in whipping up bespoke concoctions, the company offers a number of other cocktail-related services too, using the noble art of mixology to turn drinking culture into an art form, and a unique celebration of tastes and socialisation founded in the values of the great 1920's.
More details are from http://www.the43club.co.uk/baron-hector-de-branne.html